I am not one for New Year's resolutions, but I do find it helpful to reflect on the past year and think about ways to make improvements on your life and work for the upcoming year. As I am reflecting on the past year, I am realizing that I have been BUSY with my business. Very busy. In fact, I've gotten out of touch with friends and family because of my busy-ness. I've put extremely important personal things on hold so that I could focus on my business. I've lost sleep, gained weight, and gotten sick from working so hard.
I also see that there are some things that I've forgotten in my busy-ness. Productivity tips for making the most of the time that I have. Things that I used to do well, or have worked in the past, and some new ideas that I've learned but not focused on putting into practice. I know that I can accomplish as much for my business and still make time for my life, if I do a few things differently. Here are the tips I am putting into practice. I'm sharing this because maybe they will help you – and by sharing, I will hold myself more accountable to making it happen.
Time Management Tip # 1: Touch each piece of paper (or email) once
Years ago, I taught a time management workshop quite regularly, and we used the video "The Time of Your Life" based on Alan Lakein's book "How to get control of your time and your life". When I was facilitating that workshop, I put a lot of his tips into practice, and this particular tip was one of the best for working smarter at home and work.
How it works: Rather than reading emails and mail when it comes in, only open it when you are going to act on it. A simple example is your household bills. I often open them when I get them, review them, then put them in a file to pay. Using this principle, I would simply put them in the file when I get them, and then when I have time to pay them, open them, review and pay, touching each one once.
For emails, especially with smartphones, we often open emails as soon as the notification appears, waste time reading them and thinking about them, even when we have no time to reply. Instead of giving into the alluring ping of the notification, wait to read your emails until you have time to craft your replies.
I'm doing this starting NOW!
Time Management Tip #2: Ask "What is the best use of my time right now?"
This is another goodie from Alan Lakein. It is such a great way of refocusing yourself on the important, not the urgent, things when you complete a task. Of course, in order to do this, you need to know what is important – goal setting is ultimately the first step of any time management program.
How it works: As soon as you complete something, you literally ask yourself "what is the best use of my time right now?" I like to keep a running list of my most important projects on a whiteboard in my office. I think about how much time I have until my next meeting or scheduled activity and what I can accomplish for the important projects with the time I have. It may be that I only have 5 minutes, so although I can't complete a project, I can move it a little further with a quick email, by pulling some articles from the web to read later, or even by breaking the project down into some smaller next steps so that I'm ready for my next five-minute gap.
By asking yourself this question, you don't get sucked into the next urgent thing on your list, which is often less important and not urgent at all. Instead, you continue to make strides to accomplish the most important things for you.
Time Management Tip #3: Work in pulses
This one, I picked up from Tony Schwartz at the Work Revolution Summit.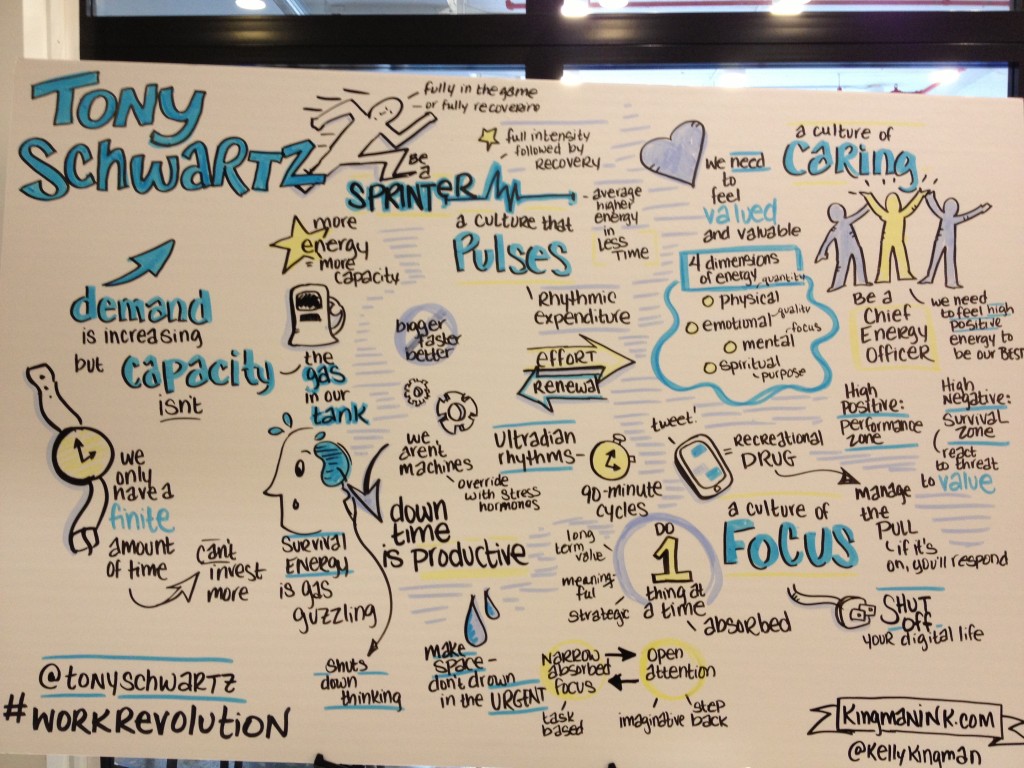 One of my problems is that I try to work all day. Sounds great, but I think it's causing me to work at a lower level of capacity. My regular routine is to get out of bed, make coffee, then sit down and start working right away around 6 am. I continue to work until Piper needs to go out, then I shower and take her for a walk. Then it's back to my desk to work away until I realize it's 7 pm and I haven't eaten all day. By that time, my brain is exhausted, my fingers are tired, my back aches, and I have no energy to make a healthy dinner so I'm ordering pizza, watching Netflix and basically vegging out for a couple of hours before I go to bed. Instead, I need to take Tony's advice and develop a rhythm for working in pulses.
How it works: Humans have what psychologists call an internal Ultradian rhythm which operates in 90-minute cycles. When we wake up, we are at our highest level of capacity, and as we work all day, without breaks, our level of productivity goes down. Tony's research shows that it dwindles from 80% to 20% by the end of the day, so often we are only working at an average of 40% capacity. Instead, we need to work in pulses. Focus with full intensity for 90-minute sprints with 15-30 minute breaks in between. By doing this, we can work fewer hours at a higher capacity – an average of 70% – and actually get more done.
I have found a timer app for Chrome that I can set for 90 minutes through the day to help me with this. Looking forward to seeing how it helps my focus all day long.
Time Management Tip #4: The 3 X 3 X 3 rule
I learned this from my coach, Michele Soregaroli, when she helped me with my business strategy. I believe that it is based on someone's book and I am so sorry that I can't recall to give credit. It's basically a way of prioritizing your day so that the most important things are completed.
How it works: You plan using one page a day (I would LOVE an app that did this so I could not waste paper – so please let me know if you know of something!), with each one listing:
Three projects, each with
Three tasks, plus
Three people to reach out to
It is a simple way of breaking down your projects into the bite-sized chunks to accomplish daily, and keeping it to 3 things makes it feel manageable. It is important to make sure the three things are achievable, so the chunking out of the tasks is critical with this. It can get depressing when you're repeating tasks over and over every day because you're not accomplishing what you set out to do.
I did this regularly in the past and it was a total productivity saver. I felt great at the end of the day, seeing what I had accomplished, and it kept me focused all day long. I just need to get back in the habit again.
Time Management Tip #5: Turn it off
Part of the problem with working from home, for me at least, is that I feel like I should be working whenever I'm at home. On weekends and evenings when I don't have plans, I work. I have gotten much better at not checking my phone or email while I'm with friends and family, but I need to get better at "turning off" when I'm done for the day. I need to give my brain a rest (and maybe get a life?)
How it works. Simple. Turn it off. This means the computer, the iPad, the phone, my brain. In 2014, one of my favourite collaborators, Alyssa Burkus, and I have rented a couple of great offices in downtown Oakville. While last year, we had a shared space that neither of us really moved into, this year, we plan to move in and use our individual and shared space much more. I think for me, this will help me to somewhat separate home and work. I will still work from home quite often but having a place that I associate with work should help. I also think that with tips #1-4, I will feel better at shutting down and taking down time.
Time Management Tip #6: Plan for the unplanned
I often over-plan my days down to the minute, and then have crises or urgent calls or things that pop up that send me into a tailspin and eat into my down time. It is important to plan for these things too.
How it works: Plan gaps between meetings in your calendar. Schedule open time daily so that it can be filled with these pop up tasks. If nothing pops up, that's great – go to Tip #2! The key for me is to consider this time just as important as client meetings, so that when people ask for coffee meetings, I'm not scheduling over it, causing the very frantic behaviour that it was meant to eliminate!
Time Management Tip #7: Get help!
As a relatively new sole entrepreneur, there is a feeling of needing to do everything yourself. Until you know the amount of revenue you're bringing in, it feels negligent to be paying someone else to do work or hiring someone when you're not sure how long you can pay or where the money will come from. I started getting better at this in 2013, but 2014 is my year for getting help!
How it works: As you work, make a list of the things you procrastinate, the things that hijack your energy, and the things that you are quite simply not naturally talented at. For me, this is a lot of administrative tasks, sticking to a project plan (I'm great at making them, then never look at them again!), writing proposals… the list could go on and on… Then find someone who is good at these things.
I am thrilled to be bringing a former colleague, Michelle Kuss, on in 2014 to help me with a variety of things I know are not my strengths. Michelle has a strong project management and marketing background and is great at communication, negotiation, and sticking to the plan. I look forward to having her hold me accountable and to teaching her all about my business and the future of work. I think this will be the game-changer for me, and cannot  wait!
What time management tips have worked for you? What are you going to do this year to get more control of your time and your life? How can I help?