To be fair, the store didn't directly tell me that my money wasn't wanted, but their actions certainly made me feel that way.
Here is the situation:
It's the week before Father's Day. I'm looking for gifts, buying cards, and then….I notice the lonely music store in the mall.
Is the store really lonely? Perhaps not. But when I looked at it, I reminisced about my own youth. I spent SO much time looking and searching for music with my friends….and even made new friends. Other than the food court, the music store was the place to be.
Back then, the store was BIG, and it was BUSY, and full of LIFE.
Now, the store is small, and I was the only customer in the store.
And, before I hear the sighs of "I only buy my music online," let me be clear…YES, I too buy my music online. However, in buying a gift for my husband, I choose not to simply hand over an iTunes gift card.
I feel a generic iTunes gift card does not communicate the following messages:
– I took the time to think about your music tastes
– I took the time to drive to the store
– I bought you an album that you would like, because I know you so well.
That being said, I walked by that music store 3 times! I had shopped in a few other stores, and bought a few things, but I wanted to add some tunes to my gift. So, with confidence – I entered the store.
I made my way over to the cash counter where I saw the only employee. The man behind the counter was in his 30's, he had long hair and was wearing a much loved NIN T-Shirt. I decided to ask his opinion on what new music I should buy (I've been a little out of touch lately with my infant son at home).
As I approached the desk, I noticed that the sales/customer service person had his mobile phone out, and he was tapping on the screen. Without looking up, he said "I'm texting my boss a problem".
He finally finished his text, and (giving him the benefit of the doubt) I explained what I was looking for.
I said, "I'm looking for a Father's Day gift for my husband. He is in his late 30's, but loves new rock and electronica. In the last year he has purchased USS, Deadmaus, and Flaming Lips. He doesn't like dance, or pop music." I gave the extra information to help with his recommendation.
He then turned, squinted his eyes, and looked forlorn at the wall of CD's across the store. He didn't move out from behind the cash, and we stood there in silence. While we stood there, I noticed a line of signs near the ceiling. The signs declared, "Most Wanted". Someone from Head Office must have thoughtfully created these to guide shoppers in their purchase. After a long pause, the clerk said, "Uh no, there really isn't anything".
I certainly could have looked on my smartphone for the top selections of 2013/2014, but I still had faith in my human sales person. After all, he was wearing a NIN T-Shirt – the band my husband has loved since the 90's.
With determination, I replied, "there must be something in the store that my husband would listen to".
With lack luster emotion he said, "Uh no, there really isn't anything good."
Just then, another salesperson walked into the store (off from break). He was probably in his 20's, with short hair and trendy clothes. After hearing my needs, he smiled and said, "no, there isn't anything good".
I could have looked through the CD's myself, but I was more interested in taking in the whole experience. I walked out (without making a purchase), and sat down on a bench outside of the store.

What just happened in this particular music store?
First Option:
To quote a line from a classic Don McLean song – is this "The Day the Music Died"?
– Am I so out of touch that the genres of new/alternative rock and electronica have completely withered away and are no longer part of our existence?
– Impossible. Scratch that idea.
Second Option:
Music store chains have had challenges for years, the associates know it, and that can certainly be demotivating.
– Many stores have closed, or at least reduced in size.
– Undoubtedly this minimizes the excitement for working in the store.

As a young teen, I remember idolizing the young adults who worked in the music establishments. They always had style, and a smile….with a bit of an edge. I imagine that young tweens/teens of today, are not putting music store employees on pedestals as I once did.
Third Option:
Apathy. They are bored, unconcerned, dispirited and don't care if they have my business.
– Their actions pushed me out of the store, without a purchase in hand, and the sales staff didn't give a S%#T.
– This option makes me sad, I find some truth in it, but I don't take it personally. I just have to think that the store's Home Office must want more for their chain, their employees, and their customers.
– And, I have to believe that the employees must want more for themselves – and this doesn't have to mean at another job location.
So what is the answer to this issue?
The answer is not an easy or simple fix. But I always believe in hope and ideas.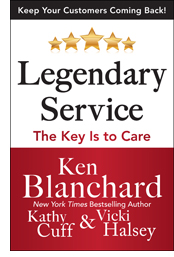 One book that stands out with intelligent tools for success, is "Legendary Service – the key is to care", by Ken Blanchard and co-authors Vicki Halsey and Kathy Cuff. This is a companion book to the outstanding Legendary Service® training program built by The Ken Blanchard Companies.
The book incorporates the ICARE model that reviews Ideal Service, Culture of Service, Attentiveness, Genuine Responsiveness and Empowerment. Ken Blanchard is a trusted author, and this is a great read.
I love this quote from the book:
"Customer loyalty is what you get when you create a motivating environment for your people."
There is a great story within the book that highlights what is needed to improve customer loyalty. In the story, a professor is educating his students on the benefits of legendary service, "Great companies realize their most important customers are their own people – employees and managers. If leaders take care of their people and encourage them to bring their brains to work, the people will go out of their way to take care of the customers. When that happens, the customers will want to come back, which will ensure that the company is profitable".
My final thoughts:
It isn't too late.
I am not naive in thinking that shopping for CD's in an ACTUAL store doesn't have it's challenges. But, it isn't okay with how I was treated that day. And, it isn't okay that the sales staff felt that this was the only way to interact with me. 
After all, would it be okay if:
– A restaurant server said to you , "there is nothing on the menu you would like".
– A car lot sales person said to you,"there is not one good car here".
– A Home Office staff member (of any company) told a prospect that "there is nothing good about the people or culture here"
However, I believe that with proper training, and education this particular store might find out that their employees actually want to sell their product to customers.
And finally, I think that at the very least if the sales staff were encouraged to see customers as human beings with real needs, perhaps they may be less apathetic and more motivated in their work. If the two men that I had met in the store that day realized that they could have been instrumental in picking out a gift for a man who works exceptionally hard, and loves his infant son very much, I might have left with a purchase in my hand.