This is part four of my 2013 wishlist for transforming HR. For the intro, check out Wish #1.
There is no arguing with the fact that technology has revolutionized the way that people communicate with friends, family and customers. I think most Human Resources practitioners are on board with that fact, and with the knowledge that we need to learn more. However, I continue to find a high level of social media and digital inexperience when I speak with HR pros. In many companies, the technology piece is handled by the Information Tech department, with Marketing and PR involvement in social media. Most of the time, I am seeing a huge gap in the knowledge of HR pros as far as the applications of new technology to drive internal processes, communication, productivity, and culture.
That is why my third wish for transforming HR in 2013 is: From Digital Inexperience to Digital IQ.
There are several "burning platforms" to motivate this change. I wrote about many of them in my post last March on Why HR Must Embrace Social Media.
Organizational Digital IQ is More Than a Technology Platform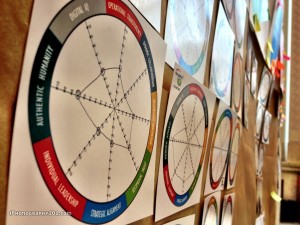 Christine McLeod and I, through research and interviews with leading organizations, have developed 8 Principles for the future workplace, which we presented at Impact99 2012. We believe that in the future workplace, it will be necessary for employees at all levels in your organization to be able to research, interact, and engage internal and external stakeholders using social, mobile or other technology. We believe that there is more to this than simply implementing a technology platform. Strategy and culture are needed to drive adoption and effectiveness. We can't simply expect people to be adept at conducting business in a digital environment. Even the younger generation of digital natives may be digitally savvy, but that does not mean that they are savvy at business in a digital landscape. Competency development is needed to ensure that everyone understands and follows common principles of business conduct, risk assessment and conflict resolution online.
Human Resources has a Key Role in Increasing Digital IQ in the Organization
The more I have learned from organizations who are working diligently on digital IQ, the more passionate I get about this topic. Many organizations have adopted forms of new technology and not seen great engagement. I have spoken with HR leaders who have no idea that they have collaboration snd social technology but their organization had spent thousands of dollars on it. We have to stop thinking about technology as an IT thing, and about social media as a marketing or even just recruiting thing. if we expect improvement in productivity and engagement through the use of technology, then HR should be a part of the strategy, communication and implementation throughout.
At Impact99 Toronto in October 2012, we had three leaders share their stories of using technology to improve the workplace. Ogilvy and Ogilvy Insurance, TELUS, and TD Bank have each implemented technology in different ways and at different scales. They each had great stories to share, but one thing stood out to me about TELUS. Although each of them were using tech to improve people programs, internal communication, and culture, only TELUS' HR function seemed to be involved at a strategy and development level.
The TELUS Example
TELUS' Learning and Collaboration department has developed a great model for social, informal and formal learning using technology as a huge player. They have worked with IT to develop technology to drive collaboration, learning and communication. They have won several external awards for learning and development from the American Society of Training and Development and CUBIC (Corporate University Best In Class). They also measure Return on Learning by surveying and asking whether their social, informal and formal learning has increased performance. These metrics have risen over the past couple of years as the adoption of the social technology they use has become more prevalent.
Check out this video explaining some of what TELUS is doing with technology internally, and think about how your organization might benefit from some of these ideas.

If you want to learn more, please connect with me and follow Impact99 on Twitter and Facebook for updates. You may also enjoy:
5 Reasons HR Needs to Increase Digital IQ and Embrace Social Media
Why Social Media and HR Go Together Like PB and J
Jeanne Meister's post in Forbes – 2013: The Year of Social HR
Dan Pontefract's new book, coming out in March – Flat Army: Creating a connected and engaged organization