I love visuals for presentations and any sort of communication. But it is often difficult to find a visual to express what I want it to. That is why I have a newly realized love for Adobe Ideas. I am no artist, but I love this tool for creating visual representations of ideas and concepts. It makes even me feel like I can make something look great.
My simple overview of Adobe Ideas app
Adobe Ideas is an app for iPad/iPod touch/ iPhone that acts as a sketchbook on your device. You can import a photo, draw anything, fill in with colour, add multiple layers, and more.
Why I think this Tech Tool is awesome
I mentioned I'm no artist, right? I'm a huge fan of JC Little's art (check out her Pickle Weasel app), and, while I'll never be the creative mind that she is, Adobe Ideas gives me a simple option to test out my artistic side.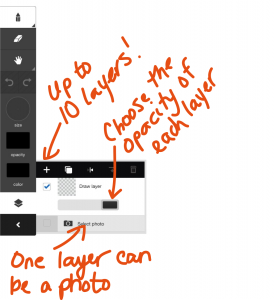 A few features I like:
It smooths your lines when your hand is a little shaky
The hand tool allows you to pinch and zoom so that you can add details easily
The undo arrow… inevitably I need to undo things often!
The simple check boxes to select which layers to include
Overall, its intuitive nature, even for someone like me who has never used adobe photoshop or illustrator programs
How it works
You'll need a stylus to make full use of Adobe Ideas – drawing with fingertips is not as easy as it was when you were in kindergarten!
Once you have the app on your iPad, it is a simple touch on the "+" to start a new "idea".

Then choose your pen and ink colour, and draw your base picture or diagram. In this example, the base is the tree with empty branches.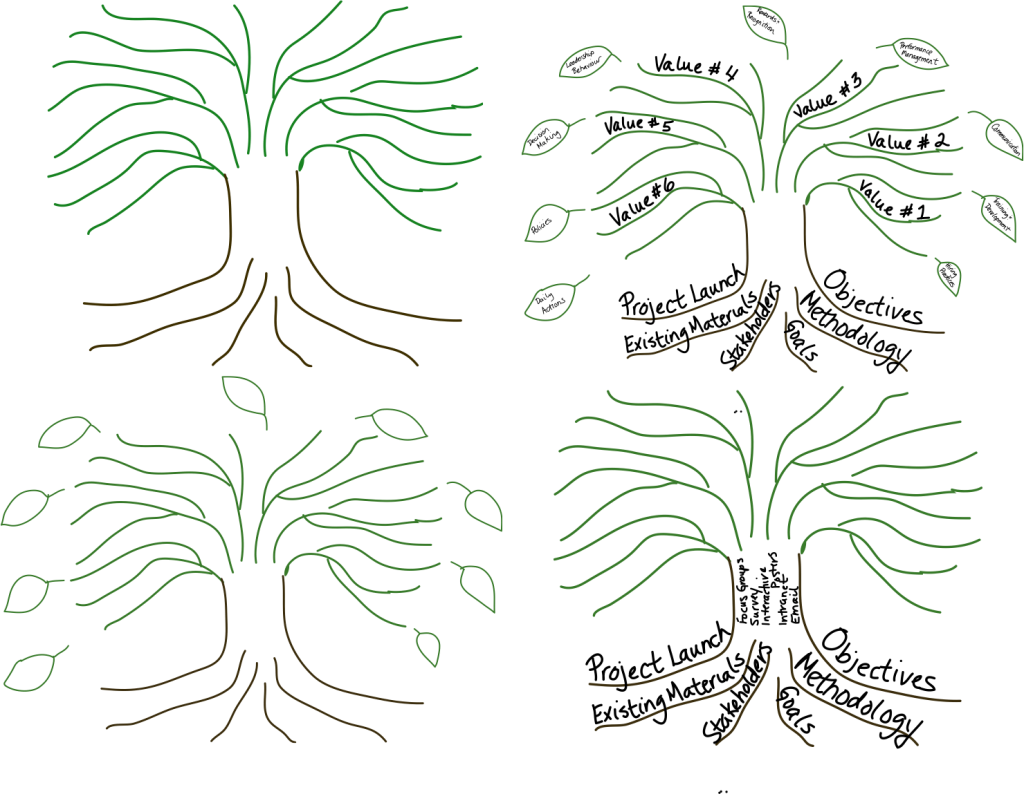 Add layers to add wording and other visual elements. You can then select and de-select layers to show, creating a myriad of options with one "Idea". In the example above, layers include one with leaves, one with wording in the roots, one with wording in the branches, one with wording in the trunk, and one with wording in the leaves.
Once you are finished, you can email your Idea as a .png file or add it to the photo album on your device. It's that simple.
My Wishlist for this Tech Tool
There are a few things I wish Adobe Ideas did.
First, it would be great to have a simple walkthrough available on the app itself. I have had this app for quite a while, but wasn't totally sure how layers worked, and it seemed much more complicated than it is.
Secondly, it would be great to have some shapes available to insert into your Idea – like circles, squares, etc. My free hand drawing is not always great, and sometimes you just want something to be as close to perfect as possible.
The bottom line
Overall, I find Adobe Ideas a great way to express ideas visually. It is simple, intuitive once you give it a try, and fun to use. It is a little expensive, at $9.99, but if you agree that a picture is often worth a thousand words, it is worth it!