Have you ever felt a little overwhelmed with the amount of information flowing at you and even from you on social media? Or have you ever wished you had the foresight to check the weather last night , to prepare for a longer drive to your morning meeting? How about wishing you knew when new content was added to Netflix so that you wouldn't miss it? Today's Tech Tool is for you. IFTTT can help!
My simple overview of IFTTT
IFTTT is basically an app that allows you to create "recipes" to automate tasks and connect various applications. IFTTT stands for "If This, Then That", and connects an input (This) to an output (That). It's like computer programming for the non-techie.
Why I think this tech tool is awesome
IFTTT is super simple to use, and there are thousands of pre-made "recipes" to choose from or even to help you think of what you could use IFTTT for. It helps to keep you organized, save you time, and reduce the time spent wading through the masses of information you see in a day. There are a few specific problems IFTTT solves for me.
First: Saving links and articles I want to reference later
One of the recipes that I use to help with this is one that saves any links I share on Facebook and LinkedIn to a file in Evernote.  This way they are all at my fingertips when I need them.

Second: Regular reminders
I have used scheduled tasks and reminders in my calendar and other tools for recurring tasks, but over time they become so regular and mixed in with other things that I start to ignore them. With IFTTT, I have certain important reminders sent by text message, and somehow this makes them more immediate and attention-grabbing. You can set up reminders hourly, daily, weekly, monthly, or annually.
Third: Personal organization and entertainment assistance
I have a couple of recipes that are more for organizing my life. The first is a recipe set up to send me a text message if snow is in the forecast for the following day. This way I can set my alarm for earlier to ensure that if I'm driving somewhere, I'm on time and not stressed.

The second is a recipe that emails me when new content is posted to Netflix. I don't have cable, so it is pretty exciting when new movies and TV shows are added to my entertainment library! It's a simple thing, but it saves me the time of having to look through screen after screen of "new releases" that really aren't.
How it works
It's simple. I think I've said that already. But here's how simple. First, you go to ifttt.com. The first time you visit the site, you will have to Join IFTTT by creating a username and password and providing your email address. Then it's time to "get cooking".
To get started, click on "Create". You will see a large "If this then that" statement. Click on the highlighted "this".

You will be asked to choose a "Trigger Channel" from more than 40 different applications. Click on the one that you want to work with, for example, Facebook. The first time you choose any application, you will be asked to connect IFTTT to it.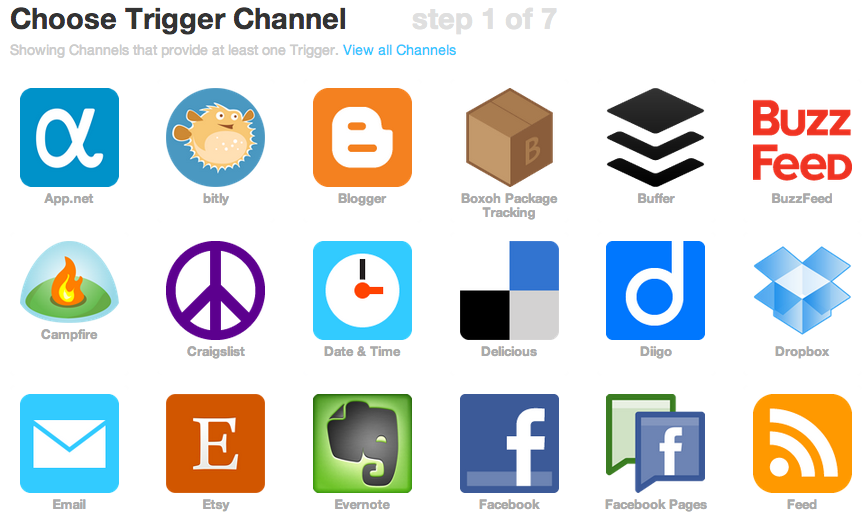 Next, IFTTT drills down into specific activities within that application that you can choose from as your Trigger. Here is the example for Facebook.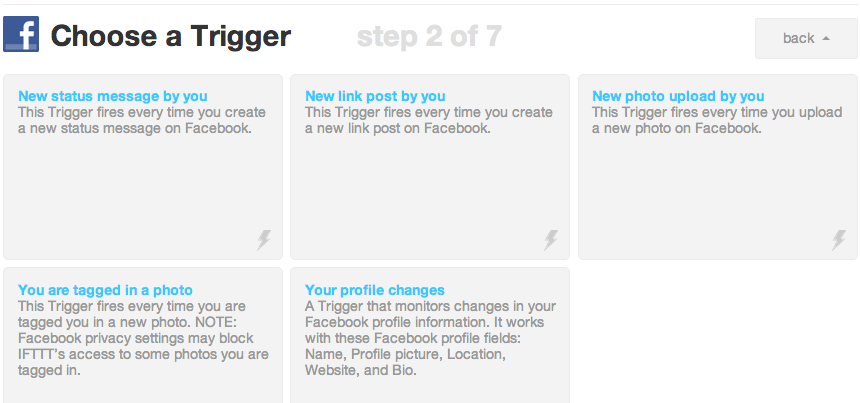 Once you select the input or Trigger, you will be asked to confirm it. I've selected "You are tagged in a photo", since I want to make sure that any photos I am tagged in make me look good :).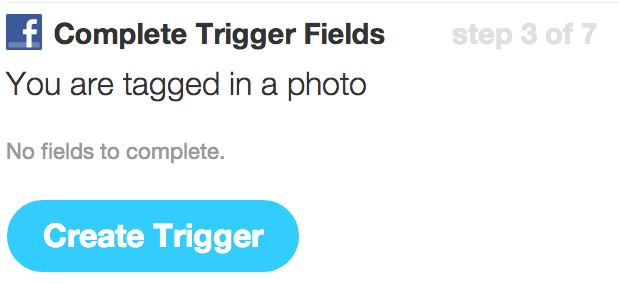 Once confirmed, you will see that your recipe is partially complete. Now you will be creating the output, so you click on "that".

You'll be taken to a similar list of apps as before, this time to select your Action or output. In this case, I'm selecting email, so that I will receive an email every time I am tagged in a photo on Facebook.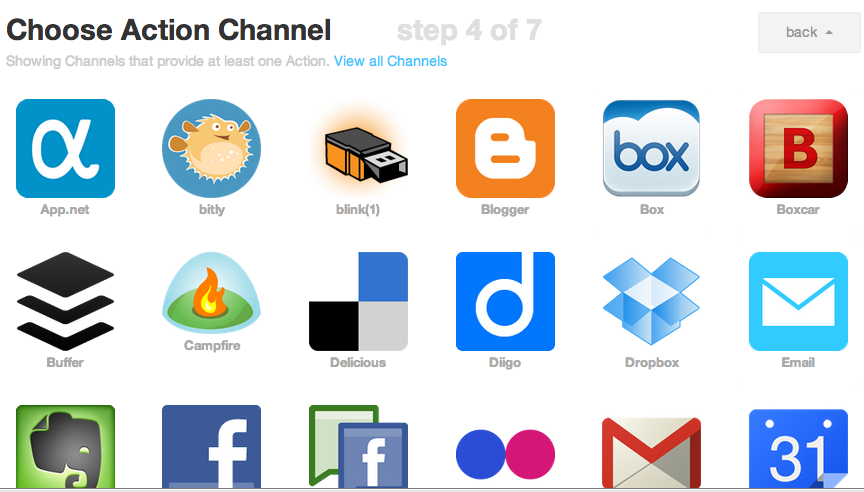 You have an opportunity to customize your Action or output. In this case, there is a basic email template already outlined in IFTTT, but a dropdown box allows you to add other fields and you can add your own text to the email as well.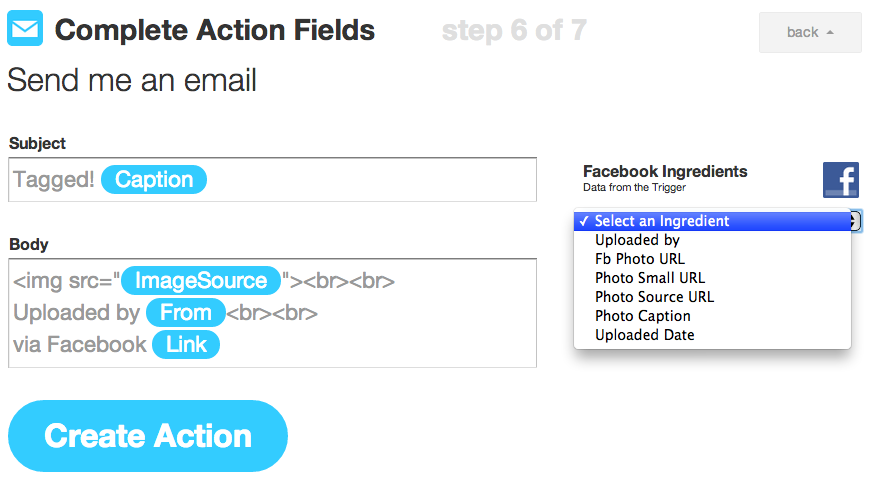 Once you create your action, you will be asked to add a description and activate your recipe…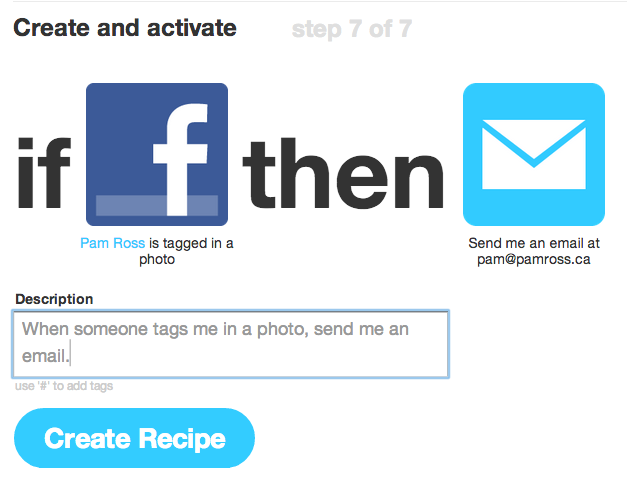 And voila! You have created your own automated program that will save you time and energy.
My wishlist for this tech tool
IFTTT continues to add channels and there are more pre-made recipes every day, so in that respect it is great. My only wish (and it doesn't sound like this is IFTTT's fault) is that Twitter was once again included as one of the Trigger channels. From what I understand, when Twitter changed it's API, IFTTT had to remove it. I used to love my "If I favourite a tweet, save it to a file in Evernote" recipe, where I was able to capture all sorts of links to blogs and articles to read later.
You can still use Twitter as an output or Action Trigger. This causes its own issues in my mind – I really dislike auto-DMs and auto-mentions, and it seems that a lot of people use IFTTT for that.
I also wish there was a mobile IFTTT app so that I could create recipes on the go on my iPhone. It sounds like there is an option for Android called "Atooma" that does this… so I'd say IFTTT better act quickly to keep that market!
The bottom line
IFTTT will save you time. It's a great way to automate some small tasks and help organize your business and life.
Do you have a favourite IFTTT recipe? Please share in the comments section!