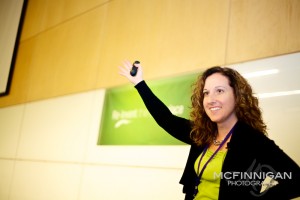 Pam's infectious energy and genuine, entertaining and informative speaking style engages audiences and inspires action. Whether you need a one-hour keynote presentation or a full day workshop, Pam will customize her content to suit your needs and your audience.
Download Pam's bio and overview of her most popular sessions.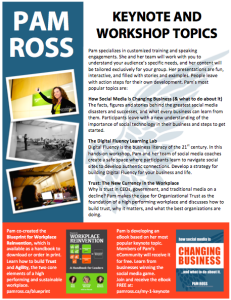 Check out Pam's future speaking engagements HERE.
Pam's opening address at Impact99 2013:
Pam's talk on Social Media and HR at the 140 Conference in Montreal:
Here's what people are saying:
"I did not realize the magic of Social Media and was very inspired by the stories you told…There was so much valuable information you shared with us… As you said, we need to go where our customers are and I will never forget that and will be looking at everything a lot differently and incorporating social media wherever I can. "Everyone has a voice" "

– Sonya, member of HRPLD

"Great presentation today at Rotary.  We all learned a lot about stuff we did not know anything about… You are a terrific speaker, genuine, relaxed, well spoken, well prepared, funny, informative.   Excellent job!"

– Ruth, President of Hamilton AM Rotary
Don't see what you're looking for? Contact Pam to discuss your needs. If it's not her specialty, she'll point you in the right direction.