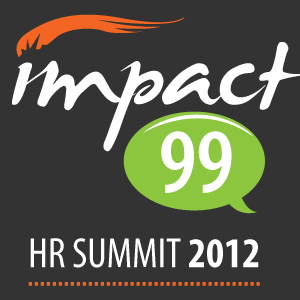 If you read my blog, have seen me present, or chatted with me on twitter, you probably know that I am fascinated and inspired by the magic that is created by social media. The intersection of social media and HR is an amazing one, and it has become a passion of mine to help other HR professionals realize what social media and increasing their digital IQ can do for them and their organization.
One piece of magic that social media has brought to my life is my friendship and business partnership with Christine McLeod, and Impact99. Christine is a visionary HR and training leader from BC who founded Impact99, an amazing event and movement for HR and business leaders to learn about the impact that social media can have on their workplace. I met Christine over Twitter, was intrigued, and then met her in person and knew that we would work together. This year, I have partnered with her to produce HR Summit 2012: Ignite a Social Workplace with Impact99.
(Register HERE)
We have officially launched our site and invite you to join us on this journey, so let me tell you a little more about it.
What is a "Social" workplace? 
In a world where customers want to connect with the brands they like in a more instant, authentic, connected way, how do senior leaders organize the business, its systems, its people and its technology to best enable that?
At the intersection of People, Process and Techonology lies the world of social business. When we talk about igniting a social workplace we mean re-thinking how we collaborate, communicate, motivate, give feedback, get feedback, learn, develop and any other series of employee touchpoints with the organization they work for.
Why do HR leaders need to pay attention?
Senior HR leaders are relied upon by their executives to design and execute a human capital strategy that positions the company for success. While even 12-24 months ago HR leaders might have said "social media? why would I need to know about that?", today HR leaders are scrambling to increase their own digital IQ and understanding of some very important trends emerging that impact their ability to attract and retain talent in a digital world.
1.   What happens with a "hyper connected" workplace where people are attached to their personal devices 24-7?
2. What new platforms will replace many HR processes like reviews, talent management, even recruiting and goal setting?
3. What is the impact of digital "Natives" (Gen Y) entering the workforce expecting to function in a way that is foreign from current practice?
4. How are personal brands of leaders and business brands (and even employer brands) all connected in a digital age?
5. What are the risks and legal ramifications of "social" in the workplace?
6. How can HR be a catalyst to "ignite" a new kind of workplace culture.. and create greater activation at all levels of the organization?
7. Who are the leaders and companies we can learn from? what HR leaders are re-shaping the profession?
What to expect at Impact99 in 2012? 
You are incredibly busy, and we understand the value of you taking a day away from the office to attend ANY event. We also know there is a FLOOD of information out there and you don't have time to sift through it all one piece at a time.
In one day, we believe we have assembled the top thought leaders in social business and social HR. The event is hands on and loaded with relevant, actionable steps to take the minute you leave the event.
Keynote Speeches, Panels of HR leaders from some of the world's most respected brands, a CEO dragon's den where we put some of our top picks for thought leaders in Social business and HR in front of a panel of actual CEOs to debate salient issues… and a chance to dive deeper into the details of some of the most important issues you're facing to talk about how this all matters to YOUR business.
So don't wait. Tickets for Impact99 are only $199 (66% off regular price) until midnight on May 31st only.
What do I do now?
Go to http://www.impact99.ca and register for the event. Also, get on the VIP list to be the first to get updates and access extra content for free.
Follow the conversation on twitter with us #impact99 hashtag is where we hang out, @followimpact99 is our twitter name or find us on facebook or youtube. Ask ANY question you like, none is too small.
Block off Oct 2nd in your Vancouver Calendar and October 24 in your Toronto calendar and prepare to IGNITE something amazing – for yourself and your organization.