Pam Ross, Chief Experience Officer, @pamelamaeross on twitter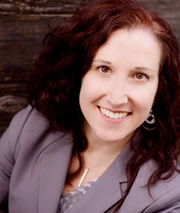 Pam Ross is on a mission to reinvent work so that people and organizations can realize their potential. "For success now and into the future, and in order for their workers to be at their best, organizations need to build trust, digital fluency and agility."
Pam has spent more than 15 years working "in the trenches" in Operations and Human Resources in customer-oriented businesses. During her time working for large and growing corporations, she was involved in building culture and improving employee engagement from a strategy and program development perspective. She discovered a talent for translating strategy into execution, inspiring action, developing leaders, and creating people programs that drive exceptional customer experience, which she is extremely passionate about.
Pam has developed a very engaged community on social media and has also become known as a thought leader in the area of Social Business and Innovative HR practices. She is a sought after speaker about Social Media Magic for HR. She is also a Partner and Producer of Impact99: Canada's Workplace Reinvention Summit and co-author of the Blueprint for Workplace Reinvention.
Pam is blogging about a journey of personal development at BecomingMoreAwesome.com and is also a blog contributor at the Huffington Post.
Over her years working for national, service-oriented businesses, a few key principles have proved themselves time and time again. For Pam's clients, these become apparent very quickly. Click the link below to see what Pam believes.
Pam Ross Commitments and Philosophies
Michelle Kuss, Blog Contributor
Michelle has a passion for exceptional Customer Experience. Her background in marketing and advertising has been focused on developing a strong brand message and on exceeding expectations. Her thirst for learning has brought her to collaborating with Pam to research new ways of working and she is always on the lookout for experiences and examples to share on our blog.
Michelle has obtained an Honours B.A. in Psychology (1998), and completed the Post Grad Marketing Program at Sheridan College (2000). Her Marketing career is evenly divided between Agency and Client work.
 Strategic Partners
We have formed strategic partnerships with leaders in a wide range of business consultancy, to bring a full range of HR services to the businesses we work with, including experts in:
Health and Safety
Business Continuity and Loss Prevention
Social Media and Community Management
Employee Relations
HR Technology
Group Benefits – Reducing costs but not benefits
Please contact us for an introduction to the companies and people we recommend.