This post is part of a month-long series on suicide and depression, in honour of the Fiorella family, who lost their son Lucas, to suicide this year. You can read more about that story here and see more posts via the #notalone hashtag on Twitter.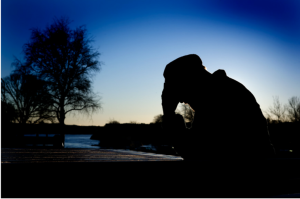 I had a lot of trouble coming up with my post to add to our month-long campaign to raise awareness of mental illness. Many of my friends have shared their personal experiences of suffering personally with depression or living with a loved one with a mental illness. Others have shared some of the staggering facts and figures behind mental illness. I found myself wondering how could I add to the conversation?   I am one of the lucky ones. I've experienced periods of sadness and difficulty, but I am generally able to pull myself out of the black hole either on my own, or with the help of the my dog or good friends and family. I haven't experienced the ever darkening pit of despair and hopelessness that those suffering from "capital D" Depression do. I have never seriously contemplated suicide. But after researching reading, and learning, I know that there are many ways I can help – and so can you!
1) Use my voice to bring awareness
At minimum, talking about depression and suicide beyond the whispers that normally happen behind closed doors – bringing the conversation out into the open – is important. Mental illness is, for some reason, a taboo subject, rarely spoken about in the open and even more rarely spoken about to the person who is suffering from it. We need to change that and support each other through this as we do any physical illness. The Canadian Medical Association reports that:
2) Understand and empathize
I can also work to understand depression and suicide better. I have struggled with this in the past, not fully understanding why people don't "look on the bright side" or pull themselves out of it. As an eternal optimist, I'm often pointing out the positives and trying to inspire happiness. I know I should know better, especially as someone with a Psych major! Over the past several weeks, reading and researching, I've learned a lot and will certainly try to be more empathetic in the future.
3) Help leaders to deal with mental illness at work
Mental illness is a business problem too. The Mental Health Commission of Canada reports that:
They also report that:
the Canadian Mental Health Associate reports that
Mental health is an issue businesses need to learn more about.
As an HR professional who worked for many years in employee relations, I have dealt with and coached other leaders to deal with the effects of stress and depression in the workplace. Here is some of what I've seen be helpful and effective for dealing with depression at work, and what has not been.
Watch for signs of stress or depression.
Be on the lookout for employees who are working longer hours, looking more tired, becoming withdrawn. People who stop attending social gatherings or taking lunches may be feeling alone or left out. Check in with them. Ask some open ended questions. Let them know you care and are there to listen.
Offer your EAP without stigma.
Many benefit plans include an Employee Assistance Program (EAP). Make sure that people know it is available. Encourage its use. Hang the flyer in the bathroom, the break room, the copier room. Make it easily accessible so people don't feel like they have to ask or be judged (not that they should be).
Don't think 'out of sight, out of mind'
If someone is off on a disability claim, keep in touch – not to harass or bother them, but to let them know you care. Send a card for their birthday or a holiday. Invite them to a team lunch. Just call to say you're thinking of them. And be prepared to accommodate a modified return to work. Studies show that the longer workers remain off work, the less likely they are to ever return, with three-quarters of workers returning following an absence of 12 weeks or less, while only 20% return after a one-year absence. Imagine the downward spiral someone who is feeling depressed must feel when they no longer feel like they can go back to work. The better you can help them feel like they are a part of your team, the better this can be avoided.
Develop resilience in your organization
Resilience is so important not only for those who suffer from mental illness or depression, but for everyone as we live and work in a world so volatile and uncertain. Change is the only constant – and it is happening at such a pace that everyone is feeling it. Some ways to develop resilience could include:
Offer a peer mentoring program so that people can build strong, trusted connections with colleagues. This program should have nothing to do with performance evaluation or reports to the boss, but focus on developing strong networks within the organization.

Provide space for quiet, restful work or spiritual moments. One of my clients has a prayer room so that employees can ensure their faith is taken care of while at work.
Offer meditation time. MindValley, the producers of AwesomenessFest (which I attended this year), do this daily. There is a lot of research about how meditation actually changes the brain and increases happiness.
Provide people with some autonomy over their job. Control of their own time, tasks or techniques to do work can help with engagement and stress levels. Dan Pink's Drive is a great resource for thinking about this.
Talk with people about more than their tasks. Get to know them – their career aspirations, values, passions – and find ways to continue to develop these. Being a boss that cares about more than the bottom line makes a difference to how open people will be with you and to their reactions to stress on the job.
At the very least, we need to work together to end the stigma around mental illness. We need to be there for people when they need us. We need to talk about this, out in the open. If you, like me, are looking to understand the helplessness of depression and suicide more, check out this TEDx Toronto talk by Mark Henick. I've pointed out a few highlights below. At 1:15, Mark describes something we can all relate to – the anger you feel at being cut off in traffic – and how we move on quite quickly from that. He explains that living with a mental illness can be like being stuck in that dark, constricted place. At 2:40, he describes his first suicide attempt and his feeling like he wasn't "enough" while in the 8th grade, and how nobody would notice if he was gone. At 4:40, he shares something that really stuck with me – how he would have been the last one whom anyone would have spoken to about mental illness and suicide. At 5:15 Mark remembers another suicide attempt. His description of that evening's events is touching, terrifying and tangible. At 11:05, he starts to share his ideas on how we can help. If you or a loved one is suffering from depression, there are many resources to help. Here are a few: For teens and kids in Canada, Kids Help Phone For suicide crisis centres across Canada, CASP In the U.S., the National Suicide Prevention Lifeline