I have to be honest.
I'm not always fond of retail customer service reps.
I say this even though I have worked MANY retail jobs over the years.
One job WAY BACK (when I was in high school) was as a clothing sales person – and I thought the job was great. I got a decent discount on clothes, my paycheck paid for gallons of 80's hairspray, and my boss was pleased with my performance. But, looking back I realize that the sales skills I had back then are the very techniques that drive me crazy now.
As a clothing sales person, I pounced on any customer that came in the door, I followed them around while they browsed, and while the person was in the change room I would put assorted clothing over the door as "helpful" suggestions. Back then, I never really thought about the customer experience, I just liked to win. In defense, the store did have strict quotas, and we were specifically paired to compete against one another.
My top 5 PEEVES regarding any retail shopping experience:
1. Lack of product knowledge
I find this a lot at Big Box stores. I was recently told by a door distributor to a Home Improvement store, that "Big Box stores move their staff around so much from department to department that it hinders them from learning a great deal about our product. There is nothing we can do about it. That's just the way it is".
2. When I don't need help, this is the time that I am swarmed by persistent sales reps asking if I need help.
Customer acknowledgement with a greeting is important. But no one should be swarmed, followed, or pestered.

3. When I do need help, this is the time that I feel like I am the only one in the store.
Being within reasonable reach is imperative. I was in a small store the other day, and there wasn't one person on the floor or cash. In fact, another customer walked in, and thought I was the retail associate.

4. Retail associates clustered in a group, having a personal conversation.
Recently, there was a giggling group that blocked a store aisle. I was too frustrated to ask them to move, so I just chose a different path. Not a great customer experience.

5. Staff that STARE at me as I stare at myself in the mirror, after trying on clothes.
I want to shout, "I'm uncomfortable about this shirt enhancing my post-pregnant belly! Please find someone else to stare at!" Instead I find a more polite way of handling the situation.
Why is

Jeff's GuyShop

awesome at Customer Service? I will tell you why…
I have NEVER had a bad experience at the GuyShop. Actually, I have always had an AWESOME experience at the store. In fact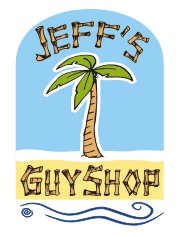 when my parents want to buy a gift for my husband, they will drive from Mississauga to Burlington, Ontario just to go to that store.
The store is clean, organized and has a fun décor.
The staff is very friendly, and they seem to take such pride in their work. They have great product knowledge, and they appear to truly enjoy helping customers find what they want or need.
On a recent trip to the store, I had something in mind. I needed a birthday gift for my husband. When David (the store employee) started to help me, I couldn't help thinking how genuine he was. I really felt like he cared how my husband would feel opening up his gift on his birthday. He showed me a few of his favourites, explained some of the craftsmanship, and measured the sleeve and neck of the shirt to ensure a perfect fit. He was friendly, patient, and wasn't in a hurry to pressure me into a sale.
After I confidently made my purchase, he took the time to white out the price on the tags. He then folded the shirt neatly (along with a trendy skinny plaid tie), and put it into a gift bag with tissue.
I may have been wearing my "mom" clothes, and my hair was scattered in a ponytail, but he made me feel like royalty. Simply, Jeff's GuyShop IS customer service.
What is Jeff's GuyShop?
For those that haven't had the pleasure, the store has AWESOME customer service and carries high quality, well branded items for men. You can find premium denim and casual wear as well as dressier and business wear. My husband currently has a number of Matinique shirts in his closet, and an assortment of very colourful and stylish socks in his dresser. He also has a bunch of much loved English Laundry shirts that were purchased a few years ago, that are still holding on strong.
This store isn't unique just because of the merchandise, and customer experience. The store has a unique entrance. The store is located on Brant Street, but don't be fooled if you can't find it. It is actually in the back half of Joelle's (another awesome establishment). Simply walk through Joelle's or enter the store via John Street – Burlington, Ontario.