This week, I was thrilled to find that "Humanizing Your Organization", an article I submitted to HR Professional Magazine has been published! If you're a member of Ontario's HRPA, you'll get your hard copy very soon – look for me on page 38! In the meantime, I'm sharing the e-version.
Those of you who read my blog regularly or know me "in real life" know that I am passionate about helping HR fully understand the impact that technology is having on expectations of customers and employees, and how they can guide their organization through this new "social" world of openness and transparency. Call it building a social workplace or simply building a culture for success today's world, whatever it is, it's about engaging people in new ways and how technology has disrupted and also enabled us to manage work differently.
The article includes examples from interviews and discussions I had with awesome people from a variety of organizations, including Zappos, Nurse Next Door, Devry, and TD Bank, to give real examples of what some organizations are doing to increase engagement and the "human" factor in their workplace.
The article also includes a quote from thought leader and author, Jamie Notter. When I read "Humanize: how people centric organizations succeed in a social world" by Jamie and Maddie Grant, I loved the concept of humanizing your organization, and thought it was a great guide book to creating systems and using technology to develop the kind of organization that people want to do business with and work for. In fact, I liked it so much that I asked Jamie to be our Keynote speaker at Impact99 last year, and he graciously agreed, inspiring and educating the 99 HR business leaders in the room.
Ok, so check it out and tell me what you think. Click on the snapshot below to go to the full article! I'd love to hear what you think in the comments. Thanks for reading!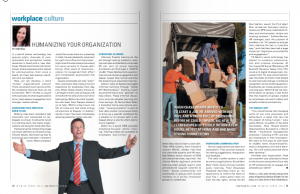 Join me with thought leaders and cool HR pros at Impact99 2013 – seats go on sale March 11, only 99 are available… don't be left behind!