Thank you for being a part of the presentation about reinventing HR and the workplace in this Social World! I hope you learned something new and were inspired to try something different in your workplace.
Click on the image below to access the slides on box.com. Feel free to post questions or comments on box.com or email me or call me for more info! I've also included some links to other resources below.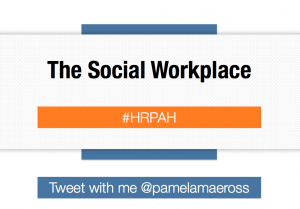 Resources and Links:
Buy the Blueprint Handbook or simply download the free preview chapter!
Strategic Alignment: The Rockefeller Habits book
Strategic Alignment: Gazelles – tools that are associated with the Rockefeller Habits
Authentic Humanity: G Adventures Culture videos
Authentic Humanity: Assessments like DISC and TEIQue are helpful – feel free to ask me any questions about these as I'm certified in both
Individual Leadership: article about Westjet's CEO of the Moment
Individual Leadership: DIY Results-Only Work Environment (ROWE) Course – I love this so much I'm an affiliate! Ask me about it.
Individual Leadership: TED talk about a self-managed organization

Operational Transparency: Tools like Yammer can help to share info easily
Digital Fluency: Hootsuite's university learning
Digital Fluency: the Denovati share lots of tips and how-to articles about social media
Dynamic Collaboration: Valve Software's Handbook
Relentless Innovation: Use a tool like getvetter or ideascale to crowdsource ideas