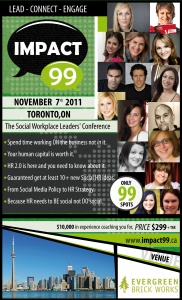 It has been a couple of weeks since Impact99 in Squamish, BC, and I've been decompressing, absorbing, and thinking about the things I learned and people I met at the event. Impact99 is a one-day interactive conference for 99 leaders, focused on integrating Social Media and Human Resources.
Those of you who know me know I'm passionate about both HR and Social Media, and about taking both to the next level, for lack of better terms – 2.0. For those reasons, I felt it was critical for me to attend this conference. The great thing was, it exceeded my expectations! So much so that I offered the co-founders, Christine McLeod and Jeff Waldman, my assistance in preparing for their Toronto conference in November. Now let me tell you a bit about why it was so great, and what to look forward to in Toronto on November 7th.
Awesome, innovative speakers.
In Squamish, the keynote speaker was Shane Gibson, author of Sociable and other books. The closing speaker was Chuck Hamilton, IBM's Social Learning Solutions Leader.  I hadn't heard either of them speak before and loved both. Shane gave great examples of how companies are using social media and the benefits they've seen. Chuck talked about how IBM has created communities online, and taken advantage of the 70% of learning that happens informally in an extremely visionary way.  It was amazing to hear some of the ways they are using technology.
In Toronto, Sidneyeve Matrix will be the opening keynote, and if you're not following her on twitter, you should be. She's the Media professor at Queens, is a brilliant thought leader in the areas of social media and educating younger generations. The closing speaker is Daneal Charney, of Leadership Reframed. I've heard great things about her ability to pull things together and help us leave with actionable strategies.
An exceptional panel with diverse experience.
There were panelists who have used social media within their own businesses for everything from recruiting to recognition and rewards to managing performance and more. In Toronto, Jennifer Ricci, VP of Employee Experience from Kobo, will be on the panel – I'm excited to hear about what they're doing, since I'm already a huge fan of Kobo from a consumer perspective. (Find out why I switched to Kobo from Kindle here – but since the switch, I'm loving the social aspect of Kobo).
An opportunity to learn, hands-on
Bring your laptop / tablet / smartphone. You'll have a chance to work with a social media coach who will help you send your first tweet, post your first youtube video, use hashtags, develop keywords for LinkedIn, and more. One of the great things about Impact99 is the interactive, personalized coaching. You'll be working with a team of people with various levels of social media skills throughout the day, and between them and your team's coach, you will be able to learn what you need to take your personal social media strategy to the next level.
Learning Pods
You'll have an opportunity to visit 3-4 20-minute(ish) learning pods targeted to your learning needs. Choose to learn about vlogging, social intranets, ROI of Social Media, Twitter, LinkedIn, and more. These small group sessions are great for getting started with something new, asking questions to help you improve your strategy, and getting to know more about certain applications.
Fun
Beyond the natural fun that comes with learning about innovative tools and techniques, there is some inherent fun in the activities of the day. Creating a youtube video for recruiting talent turned into a comedy show in Squamish. Check out an example of one of these videos here. Throughout the day, you'll also be playing Impact99 Bingo for a grand prize. When you send a tweet hasthagged with #Impact99 or tag a photo of your team, you'll get a stamp. Have fun with this and who knows, you just might win!
Networking
Impact99 is for 99 HR leaders, max. The group size is intimate enough to feel comfortable getting to know people, and large enough to offer a diverse group. I met amazing people, from diverse industries, like government, tourism, pet-care, charities, consulting businesses, banks, media companies, retailers, and more. Don't forget your business card, and get prepared now with the cardmunch app for scanning them to LinkedIn!
Impact99 is well worth attending. Check out the highlights from Squamish here, some of my tweets from Impact99 Squamish here, and go to Impact99.ca to register for November 7th!