I am back from a fabulous week in Samana and had to share the story of our travel there, and the lessons it provides for personal, employee and customer engagement. For background, we booked a "roulette" vacation where you don't know exactly which resort you are staying at until you arrive, and our 6:30 am flight was delayed 5 hours due to a mechanical failure – 2 hours on the tarmac, then 3 hours during which we were deplaned. Within that 5 hours, there were several lessons about everything from personal happiness to employee engagement to customer communication and loyalty.
Lesson # 1. When it comes to Personal Engagement, Attitude really is everything.
After 2 hours of sitting on the plane waiting for mechanics to work on the problem, we were told that it would take at least another 3 hours to fix or to get another plane to replace ours. The reaction to this was mixed. The woman behind us was screaming mad (literally) – she shouted – I think her exact words were "that's it, now I'm pissed!". Other people groaned or complained more quietly.
As for us, although we had been up since 1 and 2 am and were looking forward to getting to the beach, my friend and I had a great time during our 5 hour delay. When you have a positive attitude and control the things within your control, you really can have fun anywhere. We were happy to be off the plane, and even more happy to know that we weren't flying on a plane with a mechanical failure.
We took our positive attitudes to one of the airport lounges, paid an extra $35, and relaxed in comfy chairs while munching breakfast and sipping cappuccino. We felt like our vacation had started. I'm 100% sure that the shouting lady and others didn't enjoy their extra hours at Pearson as much as we did.
Engagement Tip: Focus on what you can control and on the positives in any situation. You truly can change your perspective.
With that said, there were a few things that happened during our interactions with Air Canada employees that made me wonder about their practices, and provided other lessons about employee and customer engagement.
Lesson # 2. If it's got your name on it, it's yours.
We experienced a few incidents that demonstrated a lack of communication across Air Canada. The first occurred when my friend, anxious to know how the roulette worked and when we would find out where we would be staying, asked one of the Air Canada employees at the gate if she knew what the process was. The attendant was completely unfamiliar with the roulette, and gave the impression that she didn't even know there was such a thing. When my friend explained we had booked the roulette through Air Canada Vacations, she was told that they were a separate company and that the Air Canada crew wouldn't know anything about how that worked.
My thoughts – I understand how organizations have separate brands and banners – but when they appear to be so obviously related and are working closely with the same customers, it is important that they have a basic knowledge of some of the things that would affect them.
Engagement Tip: Provide employees with a basic understanding of what your various departments, subdivisions and banners offer so that employees can give customers confidence that they are dealing with a trustworthy company.
Lesson 3: Internal Communication is Critical
The more critical communication gap was from our first flight crew to the second one. It seemed that the first crew had simply left without any sort of sharing of information with the new crew. This affected people in a couple of ways.
First of all, during our first boarding, a few passengers "finagled" their way into business class, where a couple of our friends were sitting. The flight attendants explained that this group of people could sit there, but they would not be able to serve them a meal. When this same group boarded the plane the second time, they told the new flight crew that they were told to sit up there and they were permitted to do so. The attendants on this new crew did serve them, and by the time they reached the last row in business class to take their meal order, they only had one option of meal left because they had run out of all others.
At the end of the flight, the Pilot made an announcement and explained that they had no idea we had been delayed, and apologized to us for it. This seems like a huge gap to me. This flight crew may have been better able to understand the crankiness of some of the guests, would have been better equipped to answer our questions, and may have had an opportunity to wow us in other ways, building customer loyalty.
Engagement Tip: Communicate. Whether it is through a log book, a text message, or good old face to face, critical information should always be communicated from shift to shift.
Lesson 4: Live up to Commitments
When we found out our flight was delayed 5 hours, we looked up Air Canada's policy on delays, which states that for flights delayed over 4 hours, they offer a meal voucher for use on the plane or in the airport. We received no such voucher – and when we asked about it, the flight attendant, once again, was completely oblivious and had no idea what we were talking about. (It's possible that this could have been solved by telling the crew that we had been waiting for an extra 5 hours – perhaps one of the attendants would have been aware of the policy and shared it).
We did receive a promotional voucher at the gate, which provided an internet link to log into to receive a discount on a future flight. (Our flight attendant had no idea that we had received this either). It turns out the discount is 10%… certainly not enough to make me choose Air Canada again. Well played from a financial standpoint, because while I would bet everyone on the plane would have enjoyed some sort of meal onboard, a very small percentage will actually use the flight voucher. However, quite poorly played from a customer engagement standpoint. Not only is the discount small enough not to count, but it forced a reminder of the delay upon our return from vacation, as we had to log in then to claim it.
Engagement Tip: Make sure your employees know your policies. Honour them. If you are not honouring them, be prepared to speak to the alternative. 
Lesson # 5. When Circumstances Hand You Have Lemons, Wow People!
Not everything was terrible about how this was handled. In fact, I thought both pilots did a very good job at dealing with the delay. Our first pilot continued to update us every 15-20 minutes, with progressively worse news, mind you, but the updates were appreciated. Our second pilot, while oblivious to our delay at first, provided what seemed like a very sincere apology at the end of the flight. That was also appreciated. Not to mention, we are quite happy not to have flown on a plane with a serious mechanical failure (I think the pilot said it was the flight tracker, and that it was quite necessary).
These sincere communications certainly helped, but in a situation like this, there are many opportunities to build strong loyalty with your customers. In fact, simply honouring Air Canada's policy on meals would have made a huge impact – if we had been given a voucher when deplaning for use in the terminal, a lot of people would have been happy to have something to eat during that 3 hours. If they really want to wow people, a discount or complimentary stay in their lounge would have been fabulous.
I recall one Westjet flight I was on years ago, where we were delayed approximately an hour. The crew took to the microphone and entertained us with jokes and stories, involving passengers as well. The time flew and I still tell the story years later. It also cost them nothing.
Engagement Tip: When things go wrong, it is prime time to go the extra mile for people. Look for ways to engage your customers, be genuine, and think about what you would want in their situation. If you can wow someone at times like these, you can create enthusiastic loyalty.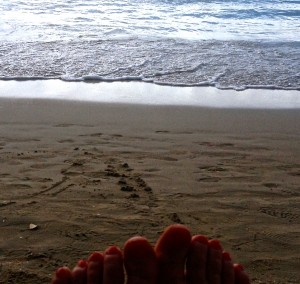 As I mentioned, we had a great time despite the delay, and the time got even better when we finally arrived at our resort. I can't wait to go back… but it likely won't be with Air Canada Vacations!
Looking to improve your Employee and Customer Experience? Contact Pam for customized workshops and training programs for your organization.